<hero description="The MajesticBlue Transmedia Universe is a shared universe centered around three properties and their complements." imagename="" cropposition=""></hero>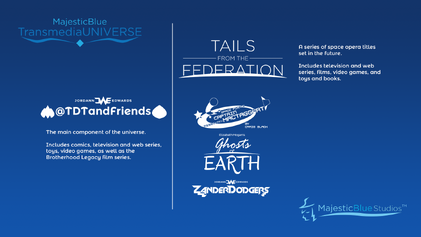 Welcome to the MajesticBlue Universe Wikia
Edit
The MajesticBlue Transmedia Universe is a shared universe centered around three properties, their spinoffs, and their complements.
Created by the creators and the fans.
Edit
The Universe is complex. It brings together stories told across a wide variety of media, including games, films, books, and so much more. Most of all, we always encourage fan participation - it's the most ambitious, most crowdsourced universe ever created!
So join in on this voyage!
Support our Indiegogo campaign, by going here!
Latest activity
Edit
Photos and videos are a great way to add visuals to your wiki. Find videos about your topic by exploring Wikia's Video Library.